More signals that gay couples will not be included in comprehensive immigration reform, the AP reports: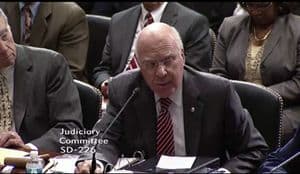 Two people familiar with the Senate immigration deliberations say the White House has suggested to Vermont Sen. Patrick Leahy that it would be best to put off a controversy over gay marriage until a bill goes before the full Senate.
President Barack Obama backs the proposal to give equal treatment to gays and lesbians, but is unlikely to veto a broad immigration bill that does not include the provision.
Leahy has not made a decision on demanding a vote, the AP adds:
He could raise the issue again if the bill goes before the full Senate. The people familiar with the deliberations were not authorized to discuss the matter publicly and insisted on anonymity. The White House had no comment.