Since the Norelco body groomer was not enough for them to focus on this month, One Million Moms have set their sights on Disney, urging them to email the company to stop the gays from holding innocent families captive at the park:
Warning! Not everyone there will be excited, innocent children anticipating a fun weekend at Disney World. The first Saturday in June, homosexuals, bisexuals and transvestites will be at the Magic Kingdom with an agenda and purpose different than what would be expected at Disney.
Homosexuals will be celebrating the 23rd anniversary of Gay Day wearing matching Gay Day merchandise, such as T-shirts. There will also be transvestites dressed in drag showing their support for the event. This event is planned with the intent to expose and desensitize children to this lifestyle by same-sex couples holding hands, hugging and kissing. In short, a Gay Day participant's main goal is to be seen versus seeing Disney World.
In past years when we have contacted Disney representatives about this same issue, their response was simply that they do not sponsor this event.
On June 1, unsuspecting families will witness a well-orchestrated event that Disney says they have no control over. Disney has taken no action to stop this, which leaves families stunned and offended. So instead of a normal day at this popular theme park, parents will be angry at the harm this causes families.
Jeremy Hooper adds:
In its
subsequent email blast, OMM calls on Disney to "change your policy and
protect unsuspecting families and children from being forced as a
captive audience to witness future Gay Days at the Magic Kingdom" and to
"[p]lease stop this offensive event from occurring in the midst of
thousands of children by requiring proper conduct while monitoring
inappropriate behavior, public displays of affection and dress code. If
patrons cannot restrain themselves, then they should be asked to leave
the park." They have not yet required all incoming guests to have
opposite-gender coitus before making their way through the turnstile,
but there's still time.
Does One Million Moms know that in February, George Kalogridis, a GAY MAN, became President of Walt Disney World?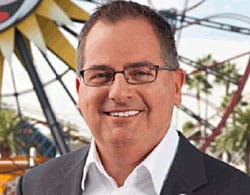 According to his official Walt Disney World bio, Kalogridis, 59, has been with the company for 41 years. He comes to his new role in Lake Buena Vista from Disneyland Resort, where he has served as president since 2009. Kalogridis' job titles also include CEO for Disney Resort Paris, vice president of Travel Operations at Walt Disney World in Orlando, and vice president of Epcot.
Kalogridis is a sociology graduate from UCF and was born in Winter Haven. According to the Orlando Sentinel, he and his partner, Andy Hardy, have been together for 12 years. The couple plans to build a home in Golden Oak, a subdivision being developed by Disney World on the northeast corner of the resort's property. Hardy is a finance manager with Walt Disney Parks & Resorts global entertainment, according to the Orange County (CA) Business Journal.
No doubt he'll be sympathetic to their silly emails.