Senator Chuck Schumer (D-NY) won't commit to voting for gay amendments filed by Senator Patrick Leahy (D-VT) if offered up for the immigration reform bill, the NYT reports: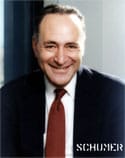 "I would like very much to see it in the bill, but we have to have a bill that has support to get UAFA passed. That's the conundrum. Because if there's no bill, there's no UAFA, either."
He added: "Look, this one is something I worry about all the time. I'm a good sleeper, but I wake up in the morning thinking of these things, sometimes early in the morning."
The paper adds:
Mr. Leahy's amendments, if offered, promise to create a politically sticky situation for Democrats in the bipartisan group like Mr. Schumer, who personally support the measures but are hesitant to vote for anything they believe could hurt the broader bill. Though Mr. Schumer is already facing pressure from gay rights groups, he declined to say how he might vote.
"I'm not going to get into speculatives," he said.
Watch an interview Politico did with Leahy about the amendments, AFTER THE JUMP…