Senator Majority Leader Harry Reid (D-NV) spoke about ENDA with reporters today, backing up his support for the legislation by revealing he has a niece who is gay, the HuffPost reports: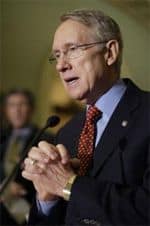 My niece is a lesbian," Reid said during a sit-down with reporters. "She's a school teacher. Her employment shouldn't be affected with that. We should have a law that says that, not just the good graces of wherever you work."
Reid's niece declined to be interviewed or to give her name. But per Reid's spokesman, she was fine with Reid making her sexual orientation public.
What are the bill's chances this year?
Reid said there's "a chance" he'll bring up ENDA for a vote this year, noting that he had a meeting about it just last week. He wondered aloud why it doesn't have broad support to pass.
"It's hard to comprehend that we haven't done a better job," he said.