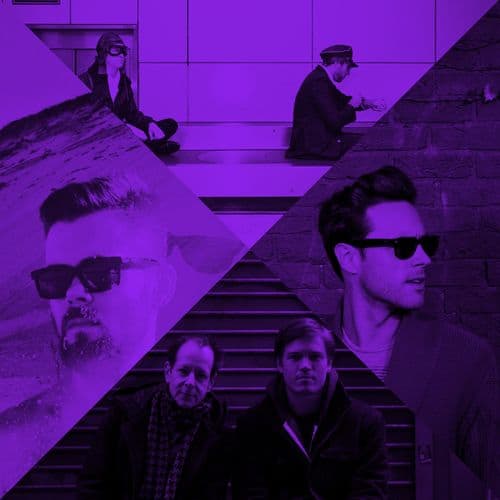 BY OCCUPY THE DISCO / JOSH APPELBAUM
The OXD Mirror is a weekly music column brought to you by the boys of OCCUPY THE DISCO (OXD), a New York City based movement created by three music lovers, Ru Bhatt, Josh Appelbaum, and Tadeu Magalhães, who want to share their love for disco, house and dance music with the world.
We are on Spotify!  Subscribe to our 'As Featured on Towleroad' Playlist to listen to tracks posted from past weeks.
Slow Knights vs Coleco: 'Shame'
Derek Gruen, better known as Del Marquis, has kept quite busy since his band The Scissor Sisters went on hiatus at the end of October, 2012.  His new project, Slow Knights, has begun to take off with their recently released debut record Cosmos, and their first official show in New York City on May 18th along with Midnight Magic.  'Shame' is a track that features Mykal Kilgore (from the national tour of Book of Mormon) belting out some serious soulful inspired vocals.  Canadian disco-house producers Coleco, who we've been following on OXD since they released a slew of free EPs last summer, give this song a shot of energy to make it a true dancefloor anthem.
Softwar: 'Believe'
Sydney's own Softwar saw the release of their Believe/One Day EP this past week.  The duo have been traveling around the world bringing their brand of house music alongside acts like Mark Ronson, Horse Meat Disco, Greg Wilson and LCD Soundsystem when they're not headlining at various clubs around Australia.  They've also produced remixes for Groove Armada, Azari & III and Two Door Cinema Club.  'Believe" is a "late night ode to the time when music was the answer, a true moonlight-maker," according to the band.  This rich track has a sound that evolves and changes, starting with a heavy bass found in many deep house bits and moving quickly into the drum breaks and synths found in classic house production.
Close: 'My Way feat. Joe Dukie'
Tad featured Close's first single 'Beam Me Up' a few weeks ago and now the British producer is back with his follow up single, 'My Way.' His debut album, Getting Closer, drops on June 3rd, and this particular single only appears on the album as a remixed version by Tanner Ross and Slow Hands.  The original version is a simple yet beautiful jazz-inspired song, featuring smooth vocals from Joe Dukie, minimal drums and light bass.  Although often we tend to gravitate towards heavy production on this column, this particular track struck a chord with me and I am equally as excited to hear the remixed version on the album as well.
 MORE NEW MUSIC, AFTER THE JUMP…
Isaac Tichauer: 'Take over You'
We've been following Sydney's Isaac Tichauer closely since last summer when we saw singles like 'Doing What I Got' surface, showcasing his knack for tropical house tunes later found on his Devotion LP.  The French Express signee is back with a free EP, Take Over You, just in time for the warm weather.  This soulful, deep, bass-heavy track will easily set the mood for a beautiful summer's night out.
a/jus/ted feat Miss Bee: 'Stay Up Here'
Justin Strauss and Teddy Stuart met in New York City in 2012 and formed a/just/ted together after Stuart's work caught the attention of NYC legend Strauss.  Soon the two were together in a studio with an Arp piano and laying out the chords to their first single 'Stay Up Here'.  Since then they've completed many tracks and brought on British vocalist Michelle Bee (Miss Bee) to add in her brand of "made-for-disco" vocals. Other producers like Satin Jackets and Mario Basanov have also borrowed her vocals to take their tracks to the next level.  'Stay Here' is a pulsing house track with a chic and polished feel to it – pulling off the difficult feat of having a decidely "New York City" feel.
Flight Facilities: 'I Didn't Believe feat. Elizabeth Rose (Extended Version)'
Australian duo Flight Facilities have fianlly returned after their last original release, 'Clair De Lune,' back in November.  The Future Classic-signed duo has seen significant success with past releases like 'Crave You' and my personal favorite, 'Foreign Language.'  Their latest, 'I Didn't Believe,' is along the lines of the very decidely disco sound Flight Facilities has shown in the past.  Fellow Sydney-based electronic-pop singer/producer Elizabeth Rose helped compose the song and provides the vocals.  I'm especially excited to hear the remix by Tiger & Woods that is included as part of the single release.
This Sunday: Plastic Plates at Paradisco at THE OUT NYC
If you're a regular reader of the OXD Mirror on Towleroad, you're probably familiar with producer, DJ and drummer Plastic Plates (we've featured him here, here, here and here for starters).  We are excited to announce that he will be DJing at our weekly daytime party, Paradisco, at THE OUT NYC from 3-8 this Sunday.  This is the first time he has been featured at a gay party in New York City and we're looking forward to hearing his signature synth-heavy nu disco music under the spring sun.  More details can be found on our site.  We're looking forward to seeing all you Towleroad readers there on Sunday!
This week's post was written by Josh Appelbaum.
For more information on OXD, check out our website and accompanying blog at www.occupythedisco.com, like us on Facebook, or follow us on Twitter: @OccupyTheDisco.