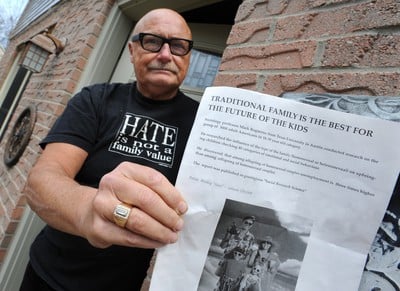 (image missassauga news)
Last week I posted about Andrew Ciastek, a RE/MAX Real Estate agent in the Toronto-area city of Mississauga who was under fire for distributing sales brochures which included an article promoting "traditional families" as the best for the future of children.
RE/MAX has fired Ciastek, XTRA reports:
Andrew Ciastek was terminated for "poor judgment on his personal marketing," according to Christine Martysiewicz, director of internal and public relations for RE/MAX Ontario-Atlantic Canada.
 
"We assure the general public that his actions in no way reflect RE/MAX or our associates. We're offended by the insensitivity shown here just as much as the community is. We take pride in the diversity of our workforce and our clients," Martysiewicz says…
…Ciastek was not immediately available for comment. In an interview before the termination was announced, he told the Toronto Star he realized people are "hurt" by the flyer and promised to apologize.