Former Scottish Cardinal Keith O'Brien, the anti-gay crusader who stepped down after being accused of "inappropriate acts" with other priests, and later admitted having a long-term relationship with one of the priests whose accusations led to him getting sacked, is being forced into exile by the Vatican, The Herald reports: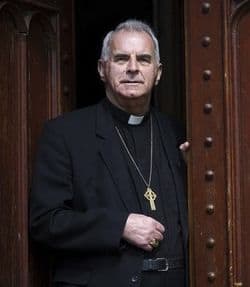 Friends of the cleric have said he has been told by Rome to shelve his plans to retire to a church-owned cottage in East Lothian and instead leave the country.
The Herald understands Cardinal O'Brien was given the news yesterday afternoon, three days after being photographed moving his personal belongings from his official residence in Edinburgh to the residence in Dunbar where he had been spending regular weekends over the past few years.
The parish priest in Dunbar, Canon John Creanor, is understood to have voiced upset at the Vatican's move against his "dear friend".
It is the clearest indication yet of the Vatican's unwillingness to let the matter drift and concern that the Cardinal's admission of gay activity over decades and allegations of abuse towards trainee priests continues to damage the Church.
More here…