Advocates for marriage equality in Illinois believe they have the votes to pass the bill and are ready to do so, the Windy City Times reports: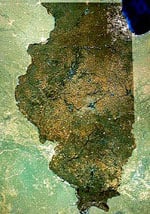 "I have absolutely no doubt we're going to be done with this by May 31," said Jim Bennett, Midwest regional director for Lambda Legal. "I believe that this bill is going to pass."
Bennett declined to give a specific vote count, but said that he expected the bill could be called and passed any day.
Rick Garcia, policy advisor for The Civil Rights Agenda, said he thinks the bill has the 60 votes needed for passage in the House.
"I believe we're there," said Garcia. "The cake is baked. We're waiting for the icing."
The bill passed the Senate on Valentine's Day. House sponsors have since struggled to pull together enough votes to pass it in the House.
Illinois Unites for Marriage, a coalition of groups working for the bill, has scheduled a community meeting to update supporters on the bill's progress and share plans surrounding the vote Wednesday evening.
Last month, Illinois Governor Pat Quinn said he thought the bill's passage was "within striking distance." Quinn is eager to sign the bill.