Michael Douglas and Matt Damon share a bed and the story of Liberace and Scott Thorson
"Too much of a good thing is wonderful"
That was a signature catchphrase of Liberace, the classical pianist who became a household name as a flamboyant nightclub entertainer. Liberace was born Vladziu Valentino Liberace but known by "Walter" or "Lee" to his intimates — even the names were too many… too much! He didn't just popularize the catchphrase but lived it maintaining his most unlikely monster career for roughly four decades — which is, what, a century in showbiz years?
The new biopic BEHIND THE CANDELABRA, premiering Sunday on HBO, is smart enough to adopt it as tagline. But is it too much? Is it wonderful?Hollywood studios thought so, at least in regards to the first question. Director Steven Soderbergh hasn't been shy about telling the press that the story was too gay for the movie studios and while we can't know the ins and outs of how true this is or to what extent he tried to make it happen as a theatrical feature before going to television, it sounds trueish. Hollywood has been curiously reluctant to relive the mainstream success of Brokeback Mountain (a major hit grossing nearly $100 million in domestic release) even though they're usually downright shameless about cashing in on any success with quick imitation.
But bless Soderbergh for pushing it forward, even if he's a weird fit for the material. As a director he's never been exactly "flamboyant" visually, preferring subtle formal experimentation to Liberace's rhinestone-slathered "look at me" effort.
CONTINUE, AFTER THE JUMP.…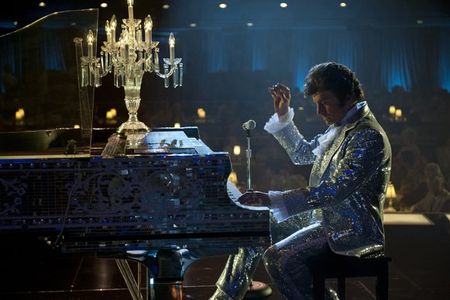 But come to think of it Liberace's sparkle must have been the draw. Soderbergh is, rather famously, a superb director of movie stars, often guiding them to their best work. You don't need to zazz anything up behind the camera when Julia Roberts is crusading with all her movie star wiles  ("they're called Boobs, Ed") and if you know to stay out of Channing Tatum's way in the editing room when he's humping the stage in a g-string you get pure Magic. But with lesser subjects Soderbergh's films can, to me, feel a teensy bit flat.
Not that Soderbergh isn't smart behind the camera when the right subject comes along. In fact, I love the build-up to The Star entrance here. It's just about perfect. The first five minutes of Behind the Candelabra are Liberace free but they're subtly funny and warm. The movie is based on the autobiography of Liberace's former chauffeur (read: lover) Scott Thorson played by Matt Damon. We first meet him in fairly anonymous long shot, he could be any blond 70s stud. Soderbergh watches a man pick him up with a funny empty-headed exchange of names as "I Feel Love" plays tinnily in the background, bless.
One smart establishing scene with Scott's foster parents later, and the two new friends (fuckbuddies?) are racing off together for a concert already in progress. Just as the piano tickling begins on the soundtrack, the offscreen host announces "Mr Showmanship… Liberace!", Soderbergh shifts the camera and the editing tempo to the music. Damon's blond feathered hair bounces with casual excitement as he struts into the concert hall and the movie has already won me over. I Feel Love, yes.
The arrival of the star changes everything for Scott — who Liberace will immediately flirt with as his current protege (read: lover), played in hilariously bitchy complete silence by Cheyenne Jackson, ignores them. Soderbergh's reliably superb intuition with Movie Stars pays off again with Michael Douglas's work as the infamous showman. Soderbergh can always zero right in on what makes a particular star special and in this case it's Douglas's gleeful inner bad boy; if he feels like he's getting away with something (that "Greed is good" speech in Wall Street being the definitive Oscar-winning example) he's always riveting. Douglas's excessively queeny (what, there's no other word) take on the perpetually horny and mincing Liberace would be downright offensive if it weren't, you know,  accurate. But my favorite beat in Douglas' future Emmy winning performance is the way he robotically shuts off if he doesn't enjoy something, the charm replaced by an equally self-serving impenetrable wall of nothing.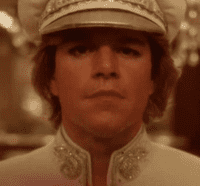 Matt Damon has the more difficult acting challenge of making us care about a less flashy less familiar character about whom we learn precious little. At first I wasn't sure that Damon was up to the task — was he playing Scott as an empty-headed colorless hunk because he had no ideas about the character? — but his performance sneaks up on you and you realize with horror, right along with the character — just how much of himself he's lost by not cultivating his own identity and letting someone else fill him. His key light-switch moment comes roughly halfway through the film with dual plastic surgery appointments. Liberace is getting a face lift to look younger but he wants Scott to get one to look more like Liberace.
I have to admit that I wanted an out unknown actor to play Scott but there's a benefit to having a star like Damon in this one. It might sound terrible to say but the tragedy of losing your own face plays a lot better for the audience when they already have deep-affection for the face they're looking at — who would want to change Matt Damon's perfectly boyish good looks? He's not too movie-star pretty, not too generically handsome, but just right and very specifically himself. And then he's gone… he never looks quite like Matt Damon again. Behind the Candelabra's morbid sense of humor is its saving grace in the creepier second half once the relationship sours (Spoiler Alert if you've never seen a biopic about the rich and famous before: there will be drug use, infidelity, squandering of money, legal battles, et. all) Rob Lowe is just great as Liberace's waxy smooth-talking pill-pushing plastic surgeon, sending up his own eternal youth in the process. And Debbie Reynolds, unrecognizable at first, is a treasure as Liberace's greedy mom.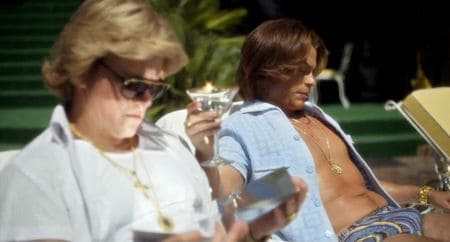 Just as the movie starts losing steam in the familiar downward spirals, the AIDS crisis hits, and you know the end is near. Most of the showbiz references are great fun here, especially if you're an Oscar buff (Liberace loved the Oscars), but one pan to a Rock Hudson headline was tasteless and obvious and I can't imagine what possessed Soderbergh to keep it. But despite the missteps, the final scene, an unexpected bit of fantasy, returns us to the initial pleasures of Liberace's love of performance and Scott's own complicated love for Liberace… which is exactly where we need to end.
In the end I would not say that Behind The Candelabra is ever "too much". In fact, I think it practically squeals like a greedy magpie piggy for more gaudy big screen glitz (now why didn't Baz Luhrmann want do direct this in 3D instead of The Great Gatsby for FScott's sake). Since Candelabra did go to television I think it's actually not enough. A lengthier miniseries was arguably called for since Michael Douglas is so game and our peeks into his colorful career and even his contentious embattled place in gay history (he does reference the gay community's hatred of him) surely have much more of worth to offer. But for what it is, and especially as a swan song for Steven Soderbergh (who is now on indefinite hiatus from filmmaking) it's a moving must-see curiousity. Even when it's not quite enough, it's still pretty "wonderful".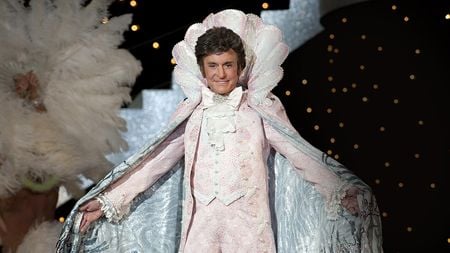 Nathaniel Rogers would live in the movie theater but for the poor internet reception. He blogs daily at the Film Experience. Follow him on Twitter @nathanielr.