BY SAM GREISMAN
A look back at today's top stories
BOY SCOUTS
As expected the anti-gay nutjobs have come out of the woodwork to react to the partial end to the Boy Scouts' ban on gays. NOM's Brian Brown says that the gays will sexualize the Boy Scouts. I'm not even sure what that means. Bumbling former presidential candidate Rick Perry is greatly disappointed by the Scouts and Tony Perkins of the FRC predicts that God will be ushered out of the scouting world. 
Lawrence O'Donnell sat down with Zach Wahls last night to discuss the end of the ban on gay scouts. 
**
GAY NEWS
Last night the Nevada Assembly advanced a bill that would put same-sex marriage on the 2016 ballot. Shortly before the vote, 18-year-old Riley Roberts delivered a powerful and stirring plea on behalf of his two moms. Also yesterday's NYU Commencement ceremony was all about marriage equality as David Boies and Edie Windsor were two of the speakers.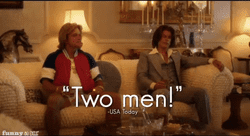 **
ENTERTAINMENT
Gay rapper Ethan Kaplan has a new video that is all about the gay art of tanning. And who would have thought that a movie about Liberace would contain so much gay sex!?
**
VIDEO OF THE DAY
A new job for dogs: dentist to lions!