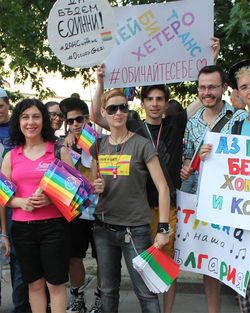 Pride has always been a tense time in Sofia, Bulgaria, where
I have lived for the last four years. In 2008, the year of the first Pride (not
coincidentally, Bulgaria joined the European Union in 2007), the parade was disrupted by a group of nationalists,
who assaulted participants and threw Molotov cocktails. In subsequent years
Pride has proceeded without incident, though with a heavy police presence. In
2010, the first year I participated, there were many more police than marchers,
most of them in full riot gear, and a phalanx of armored vehicles escorted us
on either side of the street.
Still, each year the number of participants has almost
doubled, and support from foreign embassies and local public figures has also grown.
Media coverage has gradually become more positive, and now one seldom hears words
like pedal (faggot) or obraten (queer) in television
commentary, as I did often during my first year here. Last year, just before
Pride, I was amazed to see a short television profile of a lesbian couple and
their child on Bulgarian National Television—a portrait that presented them
without any sensationalism, but simply as what they were: an entirely normal
family. It felt to me like a revolutionary moment.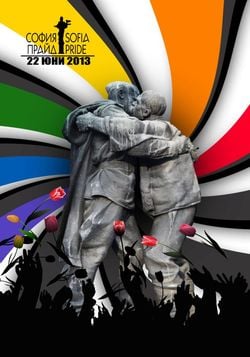 So it has been deeply disheartening that this year's Pride
events have been marred by violence. I was shocked to learn that in Plovdiv,
the country's second largest city, an LGBT film festival was violently disrupted
by hooligans. The film festival (the city's first) had already been a source of
controversy, with the local Metropolitan of the Bulgarian Orthodox Church declaring that LGBT people "destroy the souls of our children"—rhetoric that is not at
all uncommon here. When a local soccer club—powerful social groups in a
country obsessed with the sport—denounced the festival as "gay
propaganda," the mayor of the city responded not by defending principles of
human rights or freedom of expression, but instead by declaring himself "categorically
opposed to all events that divide the citizens of Plovdiv."
On the fifth night of the festival, a group of nationalists
entered the bar where that night's film was being shown. According to LGBT-Plovdiv's press
release, one man asked, "Is this the faggots' screening," before promising that
the first LGBT film festival would be the last. As they left, they broke the
projection equipment. Although the city had promised security for the event,
and though there had been an attempted disruption of an earlier screening,
there was no police presence; according to organizers, it took twenty minutes
for police to respond to a call for help. Bravely, organizers continued the
festival the next night, and—now with police protection—it passed without
further incident.
Over the last ten days, Sofia has experienced large anti-government
protests each evening, with thousands of people marching peacefully through
the city center. Acknowledging the burden placed on the city by the demonstrations,
and told that security could not be guaranteed, the organizers of Sofia
Pride decided to postpone the parade that had been planned for Saturday. Much to their surprise, an anti-gay parade took place as scheduled, with a few
dozen demonstrators walking down Vitosha Boulevard, the center of the city's
fashionable shopping district.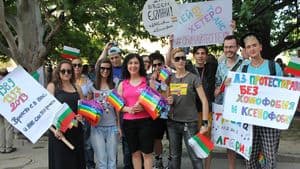 Saturday evening, a small group of LGBT activists took part
in the anti-government protests, carrying signs bearing messages such as "Let's
be united," "I'm protesting without homophobia or xenophobia," and "Gay, bi,
hetero, trans: Love each other." (#Обичайтесебе,
"love one another," is a hashtag associated with the anti-government
protests.) They also passed out a large number of small flags, featuring on one
side the Bulgarian flag and on the other a rainbow peace flag.
I was in the protest on Saturday, but among the tens of
thousands of protesters I never managed to connect with this group. According
to my friends' reports and those that have appeared
in the press, while these activists were sitting on the ground beside Eagle
Bridge, a landmark of the city and a major gathering place for protesters, a
man grabbed many of their signs and destroyed them. They were then harassed by
several other demonstrators and accused of passing out "gay propaganda." The
police intervened to tell the LGBT protesters to "stop being provocative" and
to go home; they then left the group alone and unprotected.
When the hooligans returned, one LGBT activist was physically
assaulted, though not injured, and serious violence was only averted by the intervention
of passers-by. By all accounts it was a terrifying moment, and one that could
have been terribly worse.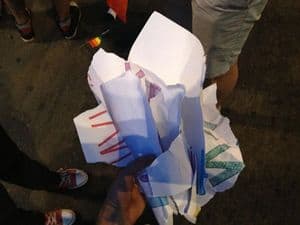 Bulgaria is on the very edge of Europe, and the presence of
Russia looms large; the emphasis on "gay propaganda" in attacks on gay rights
here is clearly inspired by Russia's recent passing of anti-"propaganda"
laws. Attacks on Pride events in Georgia and the murders
of gay men in Russia, as well as, just this weekend, an
attack on the LGBT support center in Skopje, the capital of neighboring
Macedonia, all contribute to an atmosphere that has called into question my own
sense of the progress gay people have made in this part of the world.
I've written a good deal about gay
life in Sofia, and about my
own experiences as an openly gay person here. I work as a high school teacher,
and each year gay students, none of them open, have spoken to me about their own
sense of the limitations imposed on their lives. I still believe what I tell
them: that even in the four years I have been here I have seen things get
better, and that there are activists working bravely and tirelessly to make
sure that continues to be true. But it's hard not to be troubled by what seems,
at least possibly, like a change for the worse in the weather.
Eating lunch with a number of activists this afternoon, I found
myself sitting next to a young man, a new high school graduate from a small
town in Bulgaria, and we spoke a bit about the recent events. "For the first
time, I feel like things could move backwards," he said, "like maybe progress
isn't inevitable." There's no denying that, and much depends on the ability of
activists here—with the watchfulness and support of the international
community—to hold government officials to their obligations under EU
agreements.
The organizers of Sofia Pride promise that the parade will
take place in September, though they haven't yet set a date. They should do so, and quickly. Now more than
ever, it seems terribly important that this year not pass without Pride. 
Garth Greenwell is the
author of Mitko,
which won the 2010 Miami University Press Novella Prize and was a finalist for
the Edmund White Debut Fiction Award as well as a Lambda Literary Award. This fall he will be an Arts Fellow at the University of Iowa Writers' Workshop.