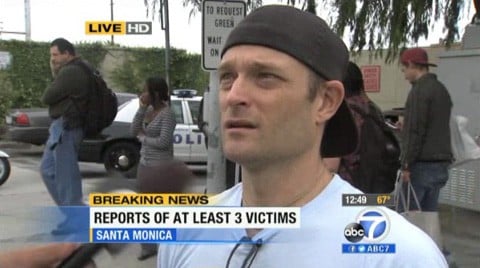 Actor Chad Allen, best known for his role in Dr. Quinn, Medicine Woman, was at the scene of today's horrific shooting at Santa Monica College. Allen said he was studying the library when he heard gunshots, OTRC reports:
"I was studying for my biology final and as I looked out the window, I could see kids looking backwards and running," he said. "So I knew something was going on. I got up and started heading towards the front of the library and that's when we heard a long 'bang' that sounded like a shotgun or a small bomb and then a few repetitive gunshots after that."
"I headed back towards the rear exits and helped funnel people out as best as possible and stay calm," he added. "And I was just on campus right now and as I came out, helped what seemed like a SWAT team figure out how to get to the other side of the field, the football field."
"It got pretty scary," he said. "As soon as people realized there was gunshots and it was real, there was immediately like, a lot of panic. One of the doors wouldn't open, so a lot of kids were panicking against a locked door and funneled around to the other side. Just kept saying, 'Everybody stay calm, we're OK,' headed to the exit."
Watch Allen describe the chaotic scene, AFTER THE JUMP…
Six people were killed in the shooting, including two men believed to be the gunman's brother and father. The gunman, who was 25 to 30 years old, was killed at Santa Monica College, the L.A. Times reports:
Santa Monica Police Chief Jacqueline Seabrooks described a violent shooting rampage that appears to have begun in the 2000 block of Yorkshire Avenue just before noon. The gunman then moved west along Pico Boulevard, firing at cars and other targets. One person died at Cloverfield and Pico boulevards; two died at 19th Street and Pico Boulevard. Another woman died at a hospital. Seabrooks said the gunman may not have acted alone.  A second "person of interest" is in custody.
"We are not convinced 100% that the suspect who was killed operated in solo or a lone capacity," Seabrooks said. The suspect fled into Santa Monica College, where he was pursued by police. He shot a woman on campus and ran into the library, where he continued to fire rounds from an assault rifle.
Watch ABC7's report, AFTER THE JUMP…
Our thoughts go out to those affected by this tragic incident.