You may recall that President Obama is in Africa this week.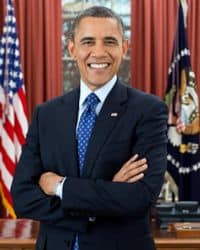 The Associated Press wondered if Obama would bring up gay rights during his first presidential visit to the continent —something especially pressing considering today's U.S. Supreme Court rulings in favor of gay marriage and the fact that 38 countries in sub-Saharan Africa now have laws criminalizing homosexuality.
At a panel this week hosted by the Advocacy Network for Africa, Adotei Akwei — Amnesty International's Managing Director for Government Relations — criticized the president for his likely focus on economic issues rather than on issues regarding women's rights, the environment or LGBT oppression.
The President would have a lot to speak about if he chose to address Africa's gay rights record. This year alone, Nigerian legislators passed a law to imprison gays, Uganda jailed a British playwright for staging the country's first gay-themed play, Zimbabwe's Prime Minister publicly denounced homosexuality and several teenage South African boys died due to abuse at a gay conversion camp.
UPDATE: Following a bilateral meeting and joint press conference with President Macky Sall of Senegal, Obama is making some remarks.
NBC's Chuck Todd reports on Twitter: "Senegal criminalizes homosexuality. POTUS says while personal views and religious customs shd be respected, a STATE shd treat people equally…POTUS says Senegal's treatment of gays did NOT come up in the bilateral meeting."
However, Obama did comment on yesterday's DOMA rulings, Todd reports: "POTUS calls SCOTUS decisions on Prop. 8 and DOMA a "victory" for democracy.  "One more step" toward basic principles of equality…"We have to comb through every federal statute" regarding how to administratively apply the DOMA ruling."
UPDATE II: More on the exchange from the Washington Times.
"People should be treated equally," Mr. Obama said Thursday at a press conference in Dakar, Senegal, on the first full day of his three-nation tour of the continent. He said although people have differing views about homosexuality, the laws of African nations must grant all people equal protection, regardless of sexual orientation.
That view was promptly rejected by President Macky Sall of Senegal, who was sharing the stage with Mr. Obama.
"We are still not ready to decriminalize homosexuality," Mr. Sall said. "I've already said it in the past. We're still not ready to change the law. This does not mean that we are all homophobic."