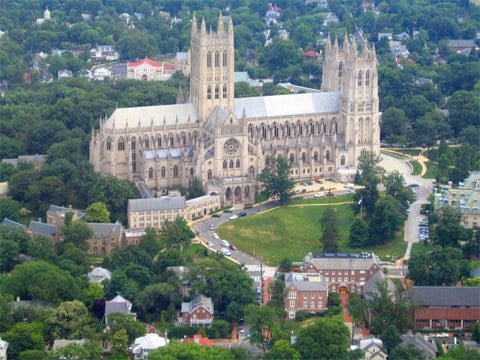 On the eve of The Supreme Court's ruling on the constitutionality of both Prop. 8 and DOMA, Washington National Cathedral has announced a special prayer service for LGBT individuals and their families, the AP reports:
"The
cathedral scheduled the service for Wednesday evening at 7 p.m. to
celebrate, grieve or anticipate the Supreme Court's ruling. 
In a statement, the cathedral's dean, the Rev. Gary Hall, says having the freedom to marry [who] you love is not only a constitutional right but also a moral right."
In January, the Rev. Hall announced that same-sex couples would be allowed to wed at the cathedral. The decision, which caused some consternation, was explained by Hall:
"Washington National Cathedral has a long history of advancing equality for people of all faiths and perspectives…We
enthusiastically affirm each person as a beloved child of God—and doing
so means including the full participation of gays and lesbians in the
life of this spiritual home for the nation."