For the first time ever in his three years as Toronto mayor, Rob Ford attended the annual rainbow flag-raising event on the city hall's roof this Monday.
According to The Star he received "a tepid response"; hardly odd considering that he voted against funding the gay Pride festival just two weeks ago: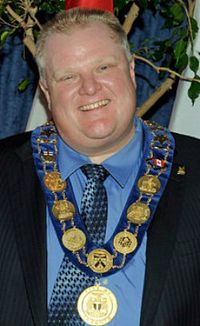 Ford, who has never marched in Pride's signature parade and who voted two weeks ago against funding the festival, received tepid applause upon his noon arrival… Fewer than five of the dozens of spectators in attendance appeared to jeer him…
The mayor also attended the International Day Against Homophobia and Transphobia flag-raising events this year and last… Ford plans to skip the parade for the third consecutive year to continue his tradition of spending the Canada Day weekend at his family's Muskoka cottage…
Ford is a conservative who opposes same-sex marriage. In a video in which he appears to be smoking crack cocaine, he also appears to use an anti-gay slur to describe federal Liberal Leader Justin Trudeau. Ford denies that a video exists and that he uses crack.
Ford was unpopular with the gay community even before he became mayor. As a city councillor, he said it was "disgusting" that council was awarding a $5,000 grant to a group making a video about coming out of the closet. He also argued that only gays and drug users get infected with HIV. And he wondered, in a council speech, whether a transgender person is "a guy dressed up like a girl or a girl dressed up like a guy."
The 44-year-old mayor is the first mayor to regularly snub involvement in Toronto's Pride parade. He also has a long history of racist and anti-gay comments, drug-related scandals and charges of violence.