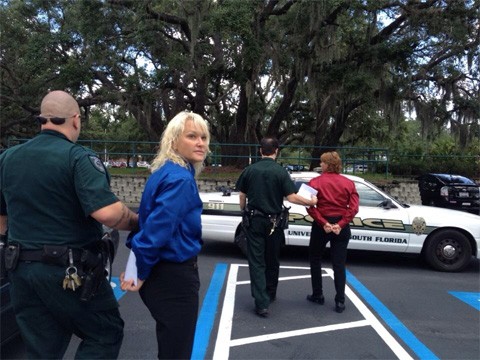 The LGBT rights group GetEQUAL–best known for its sometimes confrontational protests of Don't Ask, Don't Tell–today staged a sit-in at Florida Senator Marco Rubio's office in Tampa.  From the organization's press release on the demonstration:
The U.S. Supreme Court continues to deliberate over whether LGBT Americans have the constitutional right to marry via cases involving California's Proposition 8 and the federal Defense of Marriage Act. However, despite poll after poll indicating that a majority of Americans support marriage equality, politicians like Senator Marco Rubio (R-FL) continue to stand in the way of LGBT equality.

Senator Rubio has recently attempted to hijack the Comprehensive Immigration Reform bill moving through the Senate (S. 744) in order to keep binational same-sex couples out of the bill, and has also recently come out against the common-sense Employment Non-Discrimination Act (ENDA) — showing that he dead-set on taking the country backward, not forward. Activists with GetEQUAL are pushing back on these attempts by taking action in Rubio's office today.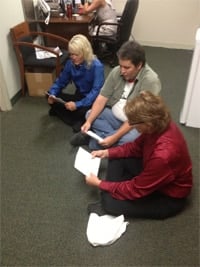 After the three activists were led out of the office in handcuffs and given notices to appear in court, a Rubio staffer attempted to have one of the protestors–an undocumented DREAMer–arrested by a police offer.  
A statement issued by GetEQUAL after the protest has more details:
As these activists were being led away from Sen. Rubio's office for drawing attention to these regressive views and to call on Sen. Rubio to "evolve" his views on immigration and employment discrimination, a Rubio staffer told the police officers in the room that one of the people in the room – GetEQUAL Co-Director Felipe Sousa-Rodriguez — "is here illegally."

Despite the fact that Felipe was serving in a support role and was not risking arrest or otherwise breaking any laws, the officer proceeded to ask Felipe whether he has papers, and asked to see his drivers license.

Under the Immigration and Customs Enforcement (ICE) program Secure Communities (S-COMM), law enforcement officers are not permitted to ask about an individual's immigration status unless a law has been broken (http://www.ice.gov/secure_communities/). Even if an undocumented immigrant breaks the law and is arrested, ICE policies still do not require the individual to answer questions about her or his immigration status.
Two weeks ago, Rubio told a conservative radio host that he would blow up the comprehensive immigration reform he has helped to fashion if it included protections for same-sex couples, saying, "If this bill has in it something that gives gay couples immigration rights and so forth, it kills the bill.  I'm gone, I'm off it."  That same week, when asked by ThinkProgress if he supported the Employment Non-Discrimination Act, Rubio said, "I'm not for any special protections based on orientation."