SiriusXM radio host Michelangelo Signorile spoke with former Congressman Barney Frank at the recent Netroots Nation annual progressive activist conference, and Frank flipped his position on urging Obama to sign an executive order barring workplace discrimination, the HuffPost reports: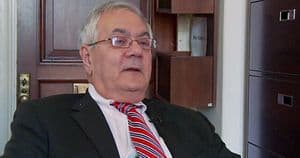 "I would have him not sign it yet," Frank said. "There's a lot of attack on him for exceeding executive power and doing things by executive order. And he's in a major fight over that about to come now, where he's about to issue an executive order restricting emissions from power plants. And there's even a danger that this right-wing [Supreme] Court would overturn that as too far. I would say this: push to take back the House from the right-wing, and if that happens, then we should push for it to be legislated, because if it's legislated, then it's for everybody. If we don't take the House back, then before he goes out of office, he should do it. But I would ask him to — I would want him to hold off now and give us a chance to do this legislatively. But that will depend on the next election."
Signorile notes that Frank signed a letter in April last year from House lawmakers urging Obama to sign.