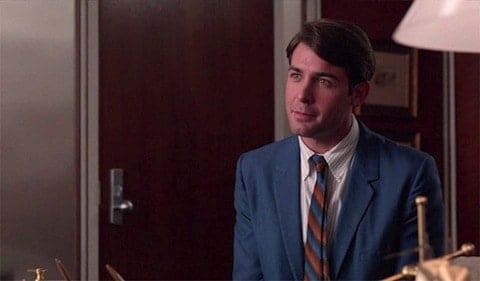 BY BOBBY HANKINSON
[SPOILERS]
After weeks of speculation, Sunday's episode of Mad Men finally answered the question, "What is up with Bob Benson?"
The rising accounts man (portrayed by James Wolk) had recommended a nurse to care for Pete Campbell's aging mother. When Pete's mother started suggesting she and the nurse had a romantic relationship, Benson sat Pete down and tried to explain.
"Couldn't it be that if someone took care of you, very good care of you, if this person would do anything for you, if your well-being was his only thought, is it impossible that you might begin to feel something for him? When there's true love, it doesn't matter who it is."
As he spoke, he slipped his knee up against Pete's, and suddenly it was clear Benson wasn't just talking about how Pete's mother could fall in love with the younger nurse. He was talking about how Pete could learn to love him.
To Benson's dismay, Pete made his feelings known. "Tell [the nurse] I'll give him a month's pay. And tell him it's disgusting."
While that's one question answered, we're still left wondering: All those handsome men running around SC&P, and you choose Pete Campbell?
Bobby Hankinson is a Brooklyn-based writer and digital strategist. His days are spent thinking about digital engagement for non-profits, while his nights are spent shimmying to Spotify, reading comic books and watching the best (and, let's be honest, worst) TV has to offer. His work has appeared in the Boston Globe and Houston Chronicle.