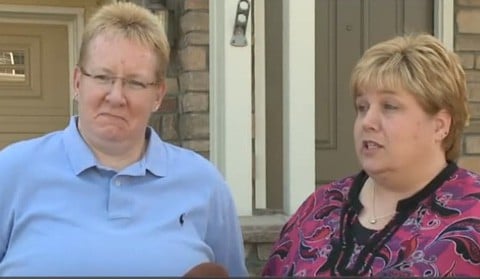 Last July, Towleroad reported on the Masterpiece Cake Shop in Lakewood, Colorado, whose owner vowed to close the bakery before being forced to bake a wedding cake for a gay couple.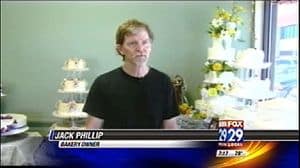 The bakery is now the subject of a formal complaint by the Colorado Attorney General's Office.
Stephanie Schmalz and her partner, Jeanine, wanted to order some cupcakes to celebrate their commitment ceremony. They contacted Masterpiece Cake Shop in Lakewood, Colorado, but the store refused to take their order, informing the couple that they have a strict policy against selling cakes for same-sex weddings and ceremonies.
Then Stephanie tried a little experiment. She called the bakery and told the owner, Jack Phillips, that she was planning to host a wedding celebration for two dogs. She told him that the dog wedding cake would need to feed 20 people and should be decorated with the names "Roscoe" and "Buffy." Without hesitation, Phillips quoted her a price and asked how soon she needed it.
When another couple tried to place an order with Phillips, he told them he would not provide a cake for same-sex weddings, the same way he would not provide cakes for pedophiles.
Watch KDVR's report on the bakery, AFTER THE JUMP…