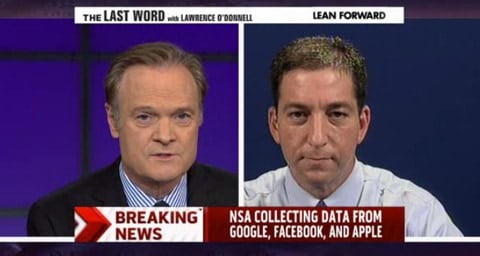 Last night we reported on the bombshell news that the NSA had engaged with nine leading U.S. internet companies in surveillance of U.S. citizens. Glenn Greenwald, who broke an earlier story about NSA surveillance and Verizon, spoke with Lawrence O'Donnell about the cases.
Says Greenwald:
"There is this massive surveillance state that the United States government has built up that has extraordinary implications for how we live as human beings on the earth and as Americans in our country, and we have the right to know what it is that that government and that agency is doing. I intend to continue to shine light on that, and Dianne Feinstein can beat her chest all she wants and call for investigations and none of that is going to stop and none of it is going to change."
Watch, AFTER THE JUMP…
The NYT is running a profile on Greenwald today, saying he's now in the cross hairs of federal prosecutors:
"The N.S.A. is kind of the crown jewel in government secrecy. I expect them to react even more extremely," Mr. Greenwald said in a telephone interview. He said that he had been advised by lawyer friends that "he should be worried," but he had decided that "what I am doing is exactly what the Constitution is about and I am not worried about it."
Being at the center of a debate is a comfortable place for Mr. Greenwald, 46, who came to mainstream journalism through his own blog, which he started in 2005. Before that he was a lawyer, including working 18 months at the high-powered New York firm Wachtell, Lipton, Rosen & Katz, where he represented large corporate clients.
"I approach my journalism as a litigator," he said. "People say things, you assume they are lying, and dig for documents to prove it."
Visit NBCNews.com for breaking news, world news, and news about the economy