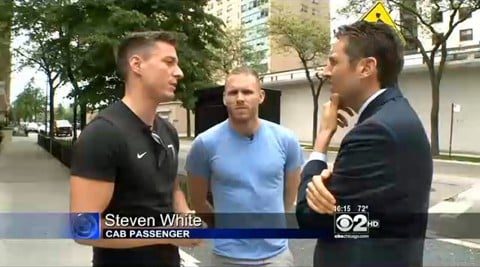 A Chicago cabbie tried to force Steven White and his boyfriend Matt McCrea from his cab on the side of the Kennedy Expressway on the way from O'Hare Airport after they kissed briefly in the back seat, CBS Chicago reports:
During the ride, McCrea "leaned over to look at something on the phone and then he leaned in to kiss me," White recalls.
McCrea says it was a closed-mouth kiss that lasted all of a second. It did not go over well with their cab driver, the two men say. "He indicated that it was a public mode of transportation and we shouldn't kiss in his cab," White says.  "He pulled the cab over and stopped and wanted us to get out — on the Kennedy."
"He could have asked us to please don't do that and handle the situation a lot differently than it was handled," McCrea says.
After asking them to get out on the shoulder of the busy roadway at 11:30 pm, the cabbie, from the Sun Taxi Association, eventually pulled in to a grocery store nearby. The cabbie claimed they were "making sex" according to CBS Chicago.
Watch, AFTER THE JUMP…