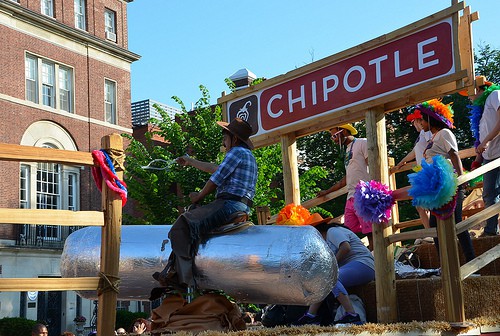 (Flickr images via Adam Fagen)
Chipotle is receiving some religious right-wing outrage thanks to their show of support at Pride festivals this past weekend in Washington, DC and Philadelphia. "Chipotle Tex-Mex Chain, Founded by Open Homosexual, Promoting Sodomy in Pride Parades Nationwide," Christian News screams: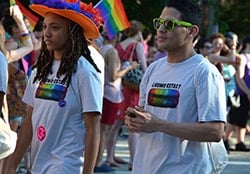 "During both events, the chain utilized a float upon which sat a man
riding a giant burrito wrapped in tin foil. On the side of the float was
a sign that read 'So big you can ride it,' with an image  of a
rainbow-wrapped burrito in the center.
The Chipotle logo was also displayed prominently on the float as it
made its way down the street while thousands watched and cheered."
Chipotle employees were also spotted wearing, "Homo estas?" t-shirts, "a pun of 'Como estas?' which means 'How are you?' in Spanish."
Chipotle has been vocal about its' support for gay rights. Back in March, the fast food chain pulled sponsorship of the Boy Scouts' Scout-O-Rama fundraiser event in Utah, citing the company's policy not to support organizations that discriminate against individuals based on their sexual orientation.
Christian News notes, "The Scout policy was reportedly brought to the company's attention by homosexual advocates." You'll recall a Towleroad reader, along with Think Progress, reached out to Chipotle, expressing concern over their initial sponosorship of the Boy Scout event. Christian News also attributes Chipotle founder Steve Ells' sexuality, "as a likely a factor in the company's activism."
(Flickr images via Adam Fagen)