In 2011, the Colombia Constitutional Court ruled that the nation's congress had to provide full legal recognition of same-sex couples by June 20, 2013.
However, the Congress rejected gay marriage legislation in April. And now that the June 20 deadline has passed without any legislation prescribing to how proceed, Colombian gay couples are confused about how to go about securing legal recognition of their relationships.
The Washington Blade reports: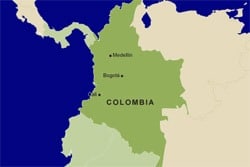 It remains unclear whether gays and lesbians can actually tie the knot in Colombia because the court's ruling did not contain the word "marriage." The judges instead said same-sex couples could go before a notary or a judge to "formalize and solemnize their contractual link."
The Colombian newspaper El Tiempo on Thursday reported that Attorney General Eduardo Montealegre Lynett said notaries and judges are free to interpret the court's decision because there is no law that specifically addresses the issue of relationship recognition. Inspector General Alejandro Ordoñez Maldonado and other Colombian officials have said the 2011 ruling did not extend the possibility of marriage rights to same-sex couples.
Some notaries had said before the June 20 deadline that they would not marry same-sex couples, but rather allow them to enter into a "solemn contract" that is similar to an agreement into which two people enter when they buy a house together.
The article goes on to quote Colombian LGBT advocate Wilson Castañeda Castro as rejecting "solemn contracts" and demanding nothing less than marriage from judges and notaries.