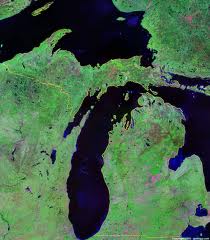 In anticipation of the upcoming Supreme Court decision, a group of Michigan state representatives have introduced a legislative package that will hopefully legalize marriage equality in the state by 2016. The legislation mirrors a similar package introduced by state senators late last month. The Detroit News reports:
Democratic state representatives are sponsoring a package of legislation that would ask voters to repeal the 2004 constitutional amendment outlawing gay marriage and create state recognition of same-sex marriages performed in Michigan and other states. The proposals would require the approval of two-thirds of both the GOP-controlled House and Republican-dominated Senate, where approval is considered a long shot.
If passed, the proposal would then be placed on the 2016 ballot, where supporters are cautiously optimistic Michigan voters will make the right decision this time.
"Recent polls have shown that the tide is shifting and a majority of citizens support marriage equality," said State Representative Rude Hobbs (D-Southfield). With or without those polls, supporting the love of our brothers, sisters, friends, and their partners in this fight for inclusiveness is the right move for Michigan and the right thing to do."