The gay cousin of chief justice John Roberts is getting married now that Roberts sent Prop8 back to California, effectively re-legalizing same-sex marriage in the state.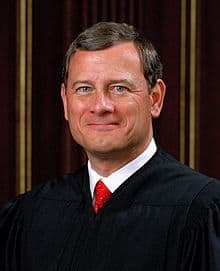 Reports Talking Points Memo:
When the Supreme Court heard the oral arguments for and against the constitutionality of DOMA this March, Chief Justice John Roberts probably noticed a familiar face in the crowd — his openly gay cousin, Jean Podrasky.
At the time, Podrasky found the arguments difficult to hear, and a little nerve-racking, no doubt in part because Podrasky was engaged to be married to her partner, and stuck in limbo until the Court issued its decision on California's Proposition 8.
Now that the ruling is in, Podrasky says that the magnitude of the ruling overwhelms whatever personal disagreements she has with her cousin, who signed on with the minority view that DOMA should be upheld.
"I am so excited. I am absolutely overwhelmed," Podrasky told me in a phone interview Wednesday.
Podrasky said she had a difficult time listening to the Prop8 proceedings due to the "disconcerting" questions that Roberts asked.
She's unsure as to whether she's going to invite him to the wedding, because she hasn't made a guest list yet.