A gay Santa Fe couple is challenging New Mexico's ambiguous law on marriage equality, the Santa Fe New Mexican reports: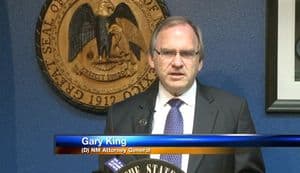 Alex Hanna and Yon Hudson tried to apply for a marriage license Thursday afternoon from Santa Fe County Clerk Geraldine Salazar, who refused their request. Accompanied by their attorneys, the men then walked down Grant Avenue to the law firm of Egolf + Ferlic + Day, where a petition for a writ of mandamus was electronically submitted to the First Judicial District Court.
Attorney Brian Egolf, who is also a Democratic state representative for Santa Fe, said in an interview that the Santa Fe court filing is different from an Albuquerque case filed last month on behalf of two lesbian couples because it asks a judge to compel the elected official to take an action required by the duties of her office. The older case alleges a civil rights violation.
The petition for a writ of mandamus names Santa Fe County Clerk Geraldine Salazar, asking her to issue a marriage license to Santa Fe County couple, Alexander Hanna and "his long-term partner," Yon Hudson.
Read the document here.
Meanwhile, New Mexico's attorney general issued a statement yesterday, the NYT reports:
Under pressure from legislators and a vigorous campaign by religious and civil rights groups to legalize same-sex marriage in New Mexico, the state's attorney general, Gary King, cautioned city clerks on Thursday against issuing marriage licenses to same-sex couples — but at the same time invited litigation, saying that the state's statute was "vulnerable to challenge."
"There's a significant issue relating to our equal-protection clause and whether or not the statute would withstand" a legal challenge over giving same-sex couples the same rights granted to other couples who are married in New Mexico, Mr. King said.
Watch King make his statement, AFTER THE JUMP…
AG bows out of same-sex marriage fight