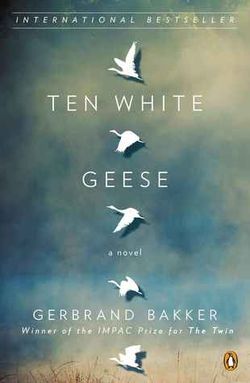 A woman living alone in an old, unfamiliar house; a sinister
caretaker making unwanted advances; severe, largely unpeopled landscapes; a
circle of stones; a small, dying town; the titular, mysteriously dwindling
geese: in a different kind of book, these elements would portend a gothic
thriller. And this new
novel by the Dutch writer Gerbrand Bakker, which was recently awarded the Independent
Foreign Fiction Prize, has much of the feel of a thriller, with a tense
atmosphere that makes for a brisk, immersive read.
But in fact very little
happens in this eerie and utterly compelling book. A scholar calling herself
Emilie, fired after an affair with a student and informed of an illness the
details of which are unclear, leaves her life in Rotterdam and flees to Wales,
where she rents a house that she finds almost by chance. She begins to work on
the overgrown grounds, ignoring as best she can the chronic pain she keeps at
bay with increasingly powerful medication. Eventually she's joined by a young hiker,
Bradwen, who arrives seemingly by accident, and they develop an odd but entirely
banal domestic intimacy, sharing meals and watching television and pruning the
trees.
Instead of incident or event, what drives this novel is a
slow and sometimes menacing erotic burn. Bakker's characters don't declare
their feelings, and they can seem at times hardly aware of them, acting in a
kind of obliviousness of their own impulses. Through most of this book we're
privy to Emilie's thoughts, which communicate her annoyance with the locals,
her memories of family, and her ruminations on Emily Dickinson, the subject of
her unfinished dissertation. But to convey a pitch of longing, Bakker often retreats
from this interior voice to the observation of surfaces, seldom describing
emotion directly. When Emilie thinks that Bradwen has gone on his way, Bakker communicates
the intensity of her feeling through gesture: "In the kitchen the breakfast
things were still on the table. She picked up his plate and smelt it, then put
his mug to her lips."
This emotional muteness is also evident in the strand of the
novel that returns us to Rotterdam, where a man identified until nearly the end
of the book only as "the husband" seeks help from the police in finding Emilie.
This relationship, too, takes on an odd intimacy and eroticism as the husband
and the policeman (also unnamed for much of the novel) travel together in
search of her.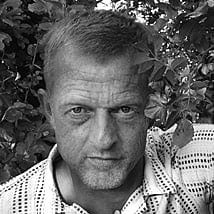 The policeman makes no attempt to hide his interest in the
husband, whose answering fascination goes unnamed and undeclared. Bakker treats
his characters with a certain wryness, and there is a strain of humor here that
in the context of this sometimes severe book had me laughing out loud. "The
policeman took one hand off the wheel and laid it on the husband's leg," Bakker
writes in a particularly lovely scene. "He didn't move it away because the
policeman was the driver."
Emily Dickinson, that recluse whose solitude made room for a
humor and eroticism not unlike Bakker's, is a kind of tutelary spirit for this novel.
Emilie, whose unwritten dissertation intends to unmask what she sees as Dickinson's
mediocrity, speaks of the poet with disdain—she's "a puling woman," "a
whimpering child." But she finds herself unable to put Dickinson's poems out of
mind, especially the one that begins "Ample make this bed":  
        Ample make this
bed.
        Make this bed with
awe;
        In it wait till
judgment break
        Excellent and
fair.
        Be its mattress
straight,
        Be its pillow
round;
        Let no sunrise'
yellow noise
        Interrupt this
ground.
Dickinson's bed is of course a grave, and as in so many of
her poems eroticism and death lie hand in hand. (This is the particular power behind
the famous use of the poem at the end of the film Sophie's Choice.)
A similar conjunction of desire and mortality helps explain the almost
overwhelming urgency of the final movement of Ten White Geese, as Emilie both orchestrates and succumbs to her
fate, surrendering to and defying it at once.
I'm still haunted by Bakker's astonishing first book, the
IMPAC Dublin Award-winning The
Twin, with its story of an aging gay man trying desperately to lay some
claim to his life. This new book is both stranger and more confident in its craft. Bakker's
prose can resemble the landscapes he's drawn to: bare, stripped of all ornament,
at times breathtakingly beautiful. Against such a landscape, it's extremely
moving to watch these characters come together so briefly and blindly, almost like
objects colliding in the dark, taking from each other whatever consolation they can find.
Previous reviews…
Jonathan Kemp's 'London Triptych' 
Benjamin Alire Saenz's 'Everything Begins and Ends at the Kentucky Club'
David McConnell's 'American Honor Killings: Desire and Rage Among Men'
Garth Greenwell is the
author of Mitko,
which won the 2010 Miami University Press Novella Prize and was a finalist for
the Edmund White Debut Fiction Award and a Lambda Award. Beginning this fall,
he will be an Arts Fellow at the University of Iowa Writers' Workshop.