Four-time Olympic gold medalist Greg Louganis is getting married to his paralegal partner Johnny Chaillot, he tells People magazine: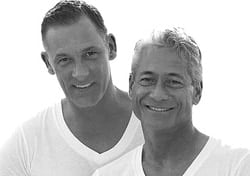 "I finally met my soul mate – the more I fall in love with Johnny, the more I fall in love with myself. This is what the universe had in store for both of us," Louganis, 53, says.
Louganis is widely considered the greatest diver in history. He is the only male to sweep both the 3m and 10m diving events in consecutive Olympic Games ('84 and '88). During his career he earned a total of five Olympic medals, five World Championship titles and 47 national titles.
Louganis also tweeted: "Yes! It is official we are getting married! I love my life and I love Johnny Chaillot ! Namaste, Greg"
Congrats to both of them!