A campaign has been launched in Arizona to put marriage equality before the voters in 2014, Echo reports: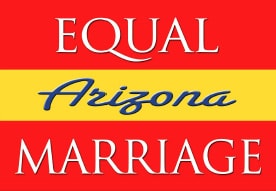 If it's successful, the Arizona Equal Marriage campaign organized by a Libertarian and a Republican could put Arizona in line to be one of the next states to approve same-sex marriage.
But first, the effort would need to collect at least 259,213 signatures of voters registered in Arizona to put the issue on the ballot in the Nov. 4, 2014, general election. To launch the effort, the initiative was filed with the Arizona Secretary of State's office on June 17.
Warren Meyer, a Phoenix small business owner, Libertarian blogger and author, and Erin Ogletree Simpson, a retired Tucson lawyer and chair of the Arizona Log Cabin Republicans, are spearheading the campaign in anticipation that the Supreme Court will return the issue of marriage equality to the states, Echo adds:
Meyer and Ogletree Simpson said their goal is to gather at least 400,000 to ensure that their proposal qualifies for the ballot. They said signatures will be gathered by volunteer and paid workers.
The initiative would alter the language of an amendment to the state Constitution approved by voters in 2008, which defined marriage as between one man and one woman. The new language would define marriage as between two people.
The initiative also proposes adding a paragraph that says religious organizations would not be required to officiate any particular marriage — language that the initiative's supporters said protects religious freedoms.
More at Echo mag….
The group's press release is here.