Does the Illinois marriage equality bill still have a chance?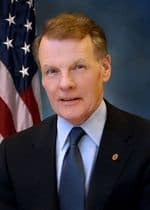 That's what seems to be suggested given a quiet Friday night move by Illinois House Speaker Mike Madigan (pictured) which extended the deadline for approval on the bill to August 31, the Illinois Observer reports:
State Rep. Greg Harris (D-Chicago) told a packed House chamber on Friday evening that he had to put off a vote on the proposal until November.
However, were Governor Pat Quinn to call lawmakers back to Springfield in the summer for a special session to address pension reform, which also was left without resolution, he could include Senate Bill 10 in a special session proclamation.
If Quinn declines to include marriage equality in any order to lawmakers to return to Springfield, Madigan could call a House special session of his own at the same time to take up the legislation, an insider noted.
"It's a fascinating move," said one, long-time lobbyist. "It suggests that there is plan to get it done."