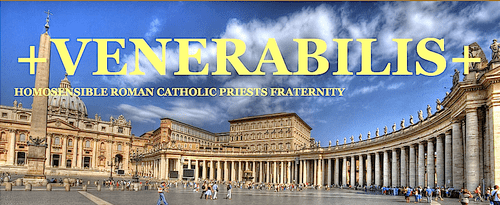 Italian news outlets have supposedly uncovered a hook-up site for gay priests in Italy. From the Catholic website Gloria:
"The homo Sensitive priestly society – Venerabilis in English – claims to be a loose association of gay and homophile Catholic priests. The website serves as a gay dating site, so that aberrosexual priests can find contact among themselves, or homosexual laity can meet like-minded priests and vice versa. This page offers chat rooms in five languages, including in German, a Twitter service to the Catholic Church and some news from a "homo sensitive" view. The ads are unique. Anyone who registers on the Venerabilis and gives a personal ad or responds to one seeks homosexual sexual contact."
The news comes on the heels of Pope Francis' statement last week admitting the existence of a "gay lobby" within the Catholic Church. 
(via joe.my.god)