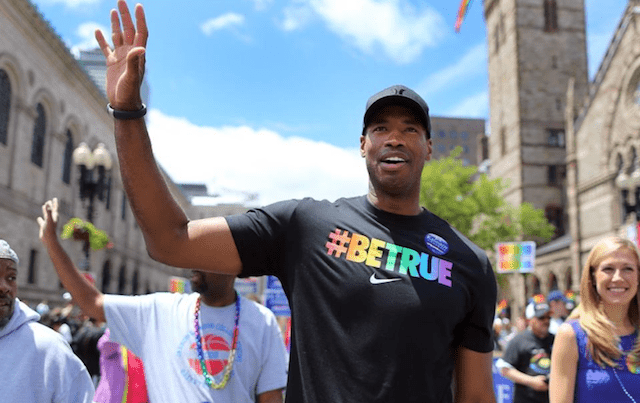 Jason Collins took to the streets of Boston yesterday, during that city's pride parade. He marched for three miles alongside his good friend and one-time Stanford University roommate, Massachusetts Congressman Joe Kennedy.
In his Sports Illustrated coming out essay in April, the former Boston Celtic confessed that he was envious Kennedy had marched in last year's pride parade and vowed to do so himself this year.
The Boston Globe reports on the support he received from parade attendees:
Collins was a favorite with the crowds who packed the Hub's streets on a sunny afternoon to watch the parade. "We love you, Jason!" shouted a coordinated throng of Northeastern University students, members of the school's Gay-Straight Alliance, gathered near Boston Common.

"I love you, too," he shouted back.

As he and Kennedy rounded the corner of the Common, three high-school-aged girls pleaded with him for a picture. "I can't stop marching," he said with a smile, urging them to hop off of the sidewalk and walk with him for a moment to take a photo.
Afterward, Kennedy tweeted a photo of the duo and wrote this is "a day i'll never forget. Could not have had more fun marching (with Collins)."
Watch a WCVB news report on Collins at Boston pride, AFTER THE JUMP.