Joan and Melissa Rivers are switching places with Bristol and Willow Palin for the season premiere of Celebrity Wife Swap according to The Hollywood Reporter: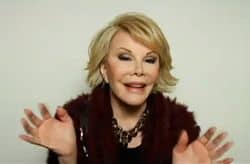 During the episode, Joan and Melissa Rivers will be entrusted with Bristol's son, Tripp, who rules the Palin household, and tasked with bringing structure to the energetic 4-year-old. Meanwhile, Bristol Palin will be thrown into the Rivers' hectic world of entertainment, where she'll have to navigate their demanding schedule and fill in as executive producer of Fashion Police, as well as entertaining at formal dinner parties and caring for Melissa's 12-year-old son, Cooper.
The show premieres on June 23.