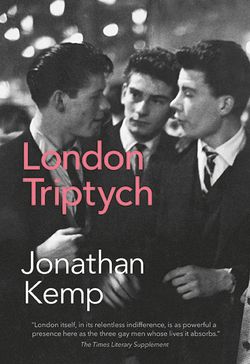 Prostitution, prison, and the police are recurring themes in
Jonathan Kemp's ambitious and intricate first novel. In each of the three
stories that make up his London
Triptych, men find themselves clients and providers in a world of
transactional sex, brought there by poverty or solitude or boredom—and lured
more profoundly by the promise of something that seems for a while like
freedom.
But this book aims to be more than an exploration of sexual
mores and sexual obsessions, though it is certainly that. The three narratives
it intertwines span a century, and two are set at pivotal moments for gay
history: 1895, when Oscar Wilde was convicted of gross indecency, and 1954,
when Britain's gay witch hunts reached their peak with the trial of Lord
Montagu. With a third narrative set in the 1990s, the novel presents a
chronicle of gay life, or at least a certain segment of gay life, in Britain in
the 20th century. 
Still, this is history of a particularly subtle and intimate
kind, concerned less with the center of power than with the more vulnerable
periphery. In an afterword, Kemp writes about wanting to write a history of the
powerless, and his account of the Wilde trial is told from the perspective of
one of the boys who, to avoid prosecution themselves, testified to Wilde's
homosexuality in court. The names of these boys, who worked for the brothel
Wilde frequented, are lost to history, and Kemp writes of being drawn to what
he calls their "invisibility."
He has filled that gap in the historical record with a
vividly imagined world. The narrator of these sections, Jack Rose, flees from
his sadistic father and his miserable East London slum, taking refuge in a world of underground clubs and elaborate balls, a world frequented not just by
boys from low-class backgrounds but by celebrities and Tory politicians and
priests who lend their services, in one wonderful scene, to the consecration of
a drag wedding.
London Triptych doesn't
romanticize the life of prostitution, but neither does it flatten out the lives
of male prostitutes and their clients to a pattern of easily understood
exploitation. Money distorts but doesn't preclude human relationships, and one
of the moving aspects of this novel is how, for each of its narrators, even
such purchased and partial love can be transformative. Thus Jack finds himself
changed by Wilde, whose favorite he becomes and by whom he finds himself
caught, admiring him in ways that shift his sense both of the world and of
himself: "I reckon most for fools or hypocrites…but never before have I looked
at another's life and thought, that's exactly what I'd like to be."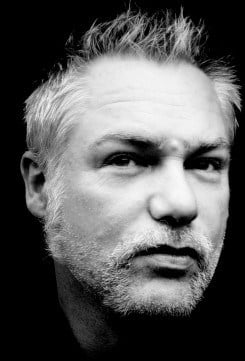 The most beautiful strand of this braided book is devoted to
Colin Read, 54 years old in 1954, who has quit an advertising job to devote
himself to painting. He hires a young man, Gregory, as his model, and finds
himself awakening both to love and to art as he listens to the man's stories
and gazes at his form. Terrified by the
intense persecution of gay men in Britain in the 1950s—which would entrap Alan Turing and John Gielgud as well as Montagu, whose trial he follows—Colin has
brutally repressed his own sexuality. Under Gregory's spell, he has his first
sexual encounters in London bathrooms, experiences he finds exhilarating and
humiliating in equal measure.
His confession of love to Gregory provides its own kind of
humiliation. But it's also an apotheosis, and we see Colin discover a genius
that, as we learn in the book's later scenes, will survive him: "Each brush
stroke charges me…my blood sings to the paint, and the paint sings to my blood,
and I have become the air that carries their voices back and forth." Nor is the
beautiful Gregory unchanged by these encounters: In what may be the most moving
scene in the novel, we learn that for him, too, these encounters were more than
mere transactions.
As these three narratives echo each other and finally (if only
slightly) overlap, the book's most profound theme becomes time and the changes
it works on both people and the city that will outlast them. We watch the lives
of gay men and their communities transform from Jack Rose's underground
"government of whores" to Colin's cottage bathrooms and the raves and porn
shoots of the 1990s, each era setting its own shapes for gay lives. And we see
Gregory and Jack Rose, those desired objects, shift merely as a function of age
from the category of pursued to pursuer. "You look back on your own youth and
view it with the eyes of another person," says Colin, striking the dominant
tone of this fine and finally elegiac book, "and it seems as foreign as another
country, as distant as a star." 
Previous reviews…
Benjamin Alire Saenz's 'Everything Begins and Ends at the Kentucky Club'
David McConnell's 'American Honor Killings: Desire and Rage Among Men'
Garth Greenwell is the author of Mitko, which won the 2010 Miami University Press Novella Prize and was a finalist for the Edmund White Debut Fiction Award and a Lambda Award. Beginning this fall, he will be an Arts Fellow at the University of Iowa Writers' Workshop.