Senator Lisa Murkowski (R-AK) has come out in support of marriage equality, HRC reports: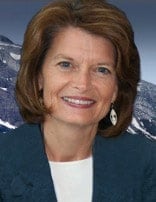 Today Senator Lisa Murkowski (R-AK) announced that she supports marriage equality. Murkowski joins two of her Republican colleagues – Senator Rob Portman of Ohio and Senator Mark Kirk of Illinois – in endorsing the right of committed and loving gay and lesbian couples to marry.
Human Rights Campaign (HRC) President Chad Griffin released the following statement in response to the news:
"Senator Murkowski's courageous and principled announcement today sends a clear message that marriage equality must come to all 50 states in this country. As the Supreme Court prepares to rule in two landmark marriage cases this month, a growing bipartisan coalition is standing up for the right of all couples to marry—and there is no turning back that tide. We hope other fair-minded conservatives like Senator Murkowski stand up and join her. Alaska may be nicknamed 'the Last Frontier,' but we've got to make sure that LGBT Alaskans don't have to wait to find justice."
Murkowski spoke to Anchorage's KTUU:
"This is a hard issue … because marriage is such a deeply personal issue. There may be some that when they hear the position that I hold that are deeply disappointed. There may be some who embrace the decision that I have made. I recognize that it is an area that, as a Republican, I will be criticized for," she said in the KTUU interview.