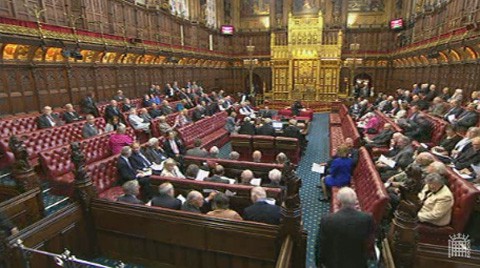 The UK House of Lords is having its second reading of the marriage equality bill today. The vote will be taken this evening, UK time. Debate should resume on the marriage bill at approximately 10 am ET.
Those who are interested in watching LIVE, can do so (opens new window), AFTER THE JUMP…
The Guardian's live blog reports:
Peers will vote on the gay marriage bill this evening. They started a two-day debate on it yesterday and, by the time the Lords rose at 10.45pm, 64 peers had already spoken. Another 27 are due to contribute to the debate this afternoon. There have been claims that the vote is "too close to call", although, without having tried to do a count myself, I'm sceptical. It is very unusual for the Lords to even have a vote at second reading and for peers to vote down a government bill at this point is exceedingly rare. Most peers accept that, because they are not elected, their right to challenge the House of Commons is limited and that they are primarily a revising chamber. The marriage (same sex couples) bill (to give it its formal title) had a large majority in the Commons and yesterday some peers opposed to gay marriage said they would not be voting against it today because instead they wanted to concentrate on trying to amend the bill. Still, the vote will mark an important moment in the passage of epochal legislation through parliament.
Also:
The Lords will vote on Tuesday night on a wrecking amendment to stop the Marriage (Same Sex Couples) Bill. If passed, the motion would give David Cameron another headache as it would embolden Tory MPs who oppose the Bill if he pressed ahead with it.
Some peers believe the result is too close to call. But Cameron aides expressed confidence that the wrecking move would be defeated and refused to speculate about the Prime Minister's actions if it succeeded.
The BBC reports here on the first day's activities.
Those who are interested in watching LIVE, can do so, AFTER THE JUMP…