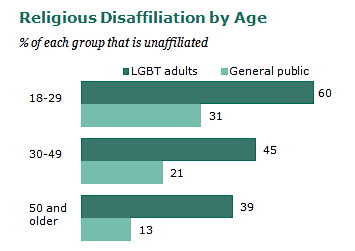 The comprehensive Pew Survey of LGBT Americans we reported on earlier detailing the coming out process and social acceptance has a fascinating section that examines the conflicting relationship between LGBT adults and religion. Unsurprisingly, there is a stark difference between the religious views of LGBT adults and that of the general public.
From Pew: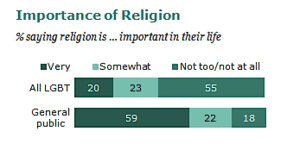 Lesbian, gay men, bisexuals and transgender adults are, on the whole, less religious than the general public. About half (48%) say they have no religious affiliation, compared with 20% in the general public; this pattern holds among all age groups. LGBT adults who do have a religious affiliation generally attend worship services less frequently and attach less importance to religion in their lives than do religiously affiliated adults in the general public.
Also, a third (33%) of religiously affiliated LGBT adults say there is a conflict between their religious beliefs and their sexual orientation or gender identity.
Later on, the survey asks LGBT respondents to rate six religions or religious institutions as friendly, neutral or unfriendly toward the LGBT population. By overwhelming margins, most rate all six as more unfriendly than friendly. And about three-in-ten LGBT adults (29%) say they personally have "been made to feel unwelcome at a place of worship or religious organization."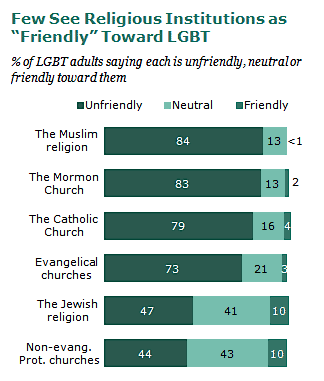 Check out the full survey HERE.