Saunders High School boys basketball coach Anthony Nicodemo recently came out to his school team — including a few parents, past captains and the school principal — making him quite possibly the only publicly out boys high school basketball coach in the tri-state area.
Fear of parental backlash and being labelled a pedophile kept him from coming out since joining the team in 2009. But he had long read the LGBT sports blog Outsports and looked into the Equality Coaching Alliance before making the decision to join other LGBT players, coaches and advocates at Nike's LGBT Sports Summit two weeks ago.
Then on Monday, he came out: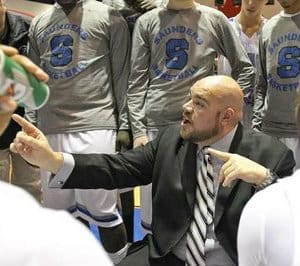 He called the team together with a couple parents, past captains and the school principal. He admitted to them that, despite preaching the importance of honesty, he had not been forthright with them.
He told them their basketball coach is gay.
The reaction was like that experienced by every gay male athlete and coach we know to have come out to his team in the last 15 years: They literally embraced him.
"It was humbling," he said. "Very quickly the kids started to speak. A couple of the kids said, 'Who cares? Coach has done more for us in our lives than anyone else. We love him and we've got to focus on our goals.'"
Cyd Zeigler's entire profile on Nicodemo is well worth reading, especially to learn how he transformed Saunder's mostly losing team of 'street ballers' into a cohesive, winning group.
But most interesting is the effect that Nicodemo's coming out might have on the local sports culture overall:
Nicodemo is no wallflower. With his bigger-than-life personality, the coach shatters stereotypes that still fuel "faggot" and "sissy" comments in the locker room and on the court. He's ready to challenge the long-held beliefs in sports about what a gay man is and what he can accomplish. While headlines of Jason Collins and Robbie Rogers have flooded the New York area for months, a real-life fixture of the local high school sports world has emerged amongst the masses; His potential impact could be game-changing.
He also may bring some institutional change. It's been hard for LGBT advocates to institute sensitivity training for high school coaches and administrators due to various elements from interest in the topic to financial resources. Nicodemo will explore bringing that kind of training to the counties of Westchester, Rockland, Putnam and others in the area just north of New York City in the coming year.
Out athletes and LGBT advocates have really challenged homophobia in sports over the last two years. In addition to Collins and Rogers coming out, three pro-LGBT sports organizations have recently come into prominence and a few high school and college coaches have begun being called out for homophobic behavior.