Daniel Baer has been nominated by President Obama to become the ambassador of the Organization for Security and Cooperation in Europe (OSCE.), the Washington Blade reports: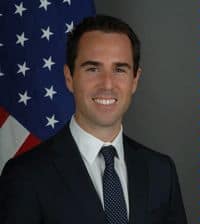 Baer, who is the current assistant secretary for the Bureau of Democracy, Human Rights and Labor at the U.S. State Department, would become the fourth openly LGBT person to serve as a U.S. ambassador. David Huebner has been the ambassador to New Zealand and Samoa since 2009. Michael Guest was the ambassador to Romania from 2001-2004 and James Hormel was the ambassador to Luxembourg from 1999-2001.
OSCE, which is based in Vienna, comprises 57 European, Asian and North American countries that cooperate on security, terrorism, economic and human rights issues. The organization formed in the 1970s during the Cold War.
Baer, who has been in his current position since Nov. 2009, was previously an assistant professor at Georgetown University's McDonough School of Business. He was a fellow Harvard University's Edmond J. Safra Foundation Center for Ethics from 2007-2008 and worked at the Boston Consulting Group from 2004-2007.