The City Council of Pocatello, Idaho voted 4-2 to pass an LGBT non-discrimination ordinance on Thursday night after a six hour meeting, Local 8 News reports: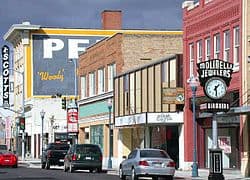 The version that passed Thursday has several changes.
The so-called "ID to pee" section, which stated the gender on a state-issued ID card, would decide what restroom a person could use, was removed. The small business exception was also removed. That would have exempted a business with five or fewer employees from the ordinance.
That removal came after a citizen pointed out almost 40 percent of Pocatello businesses have five or fewer employees.
"It's something we can be proud of in Pocatello," said City Councilwoman Eva Johnson Nye. "I think we made some good decisions tonight. It was a long time getting there, but we did the right thing. And we have citizens protected now, and that's a good thing."