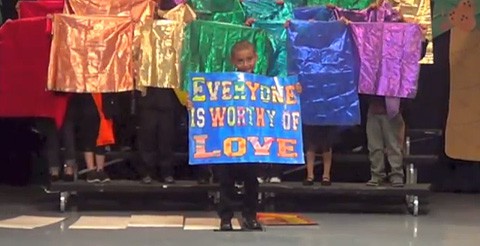 A Los Angeles kindergarten class has an LGBT Pride message for you that will make your reach for the Kleenex.
Writes Arturo Avina on his blog:
Oh. My. God. Conservatives were actually right on this one. The "gay agenda" is infiltrating our public schools! And you know what? It's absolutely fabulous.
My talented kindergarteners at Olympic Primary Center in the Los Angeles Unified School District—who found online success earlier this year with their outstanding film adaptation of the beloved book "Miss Nelson is Missing"—celebrated the end of an eventful school year by performing Cyndi Lauper's classic anthem, "True Colors." In the video above, you can see how as they sing, they use American Sign Language while the audience reflects on the statements "You Are Good" and "You Are Perfect." Combine that with rainbows, messages of love, and a great pop song and you have a touching performance that represents what my students have learned.
The lesson: love yourself, and always show love, kindness, and respect towards others no matter who they are. Regardless of ethnicity, sex, gender, religious creed, or sexual orientation, EVERYONE is worthy of love.
Watch, AFTER THE JUMP…
And read Avina's full post here.
(h/t raw story)