Prop 8 proponents have filed a motion with the Supreme Court urging it to halt gay marriages in California, the AP reports: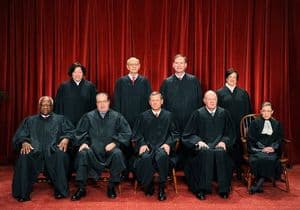 Attorneys with the Arizona-based Alliance Defending Freedom claim in the petition that the 9th U.S. Circuit Court of Appeals acted prematurely and unfairly on Friday when it allowed gay marriage to resume by lifting a hold that had been placed on same sex unions.
"The Ninth Circuit's June 28, 2013 Order purporting to dissolve the stay…is the latest in a long line of judicial irregularities that have unfairly thwarted Petitioners' defense of California's marriage amendment," the paperwork states. "Failing to correct the appellate court's actions threatens to undermine the public's confidence in its legal system."
The application was submitted to Justice Kennedy, who is the Circuit Justice with responsibility for the Ninth Circuit Court of Appeals, SCOTUSblog adds:
Whether the emergency request to Justice Kennedy can succeed is unclear. But it is unlikely. As a formal matter, the Ninth Circuit did not put the Supreme Court's ruling in the Proposition 8 case into effect prematurely. The Supreme Court held that the proponents of Proposition 8 could not file appeals in federal court. That ruling says nothing about imposing or lifting a stay on same-sex marriage. The court of appeals likely has the authority to act with respect to its own previously entered stay, which is a form of controlling its own docket. Although the court of appeals had previously stated that they stay would remain in effect until the Supreme Court's ruling was final, it presumably can change its mind.
Put another way, before the Supreme Court issued its judgment the Ninth Circuit could not issue a new substantive ruling on Proposition 8′s constitutionality or the standing of the parties to appeal. The court of appeals lacked jurisdiction over those issues while the case was in the Supreme Court. But I am not aware of authority for the proposition that the court of appeals lacked the power to modify its own stay.
Also important, as a practical matter, an order from the Supreme Court temporarily barring same-sex marriage in California would seem to have little practical effect other than to delay the inevitable. And it could call into question the few marriages already conducted starting late yesterday.