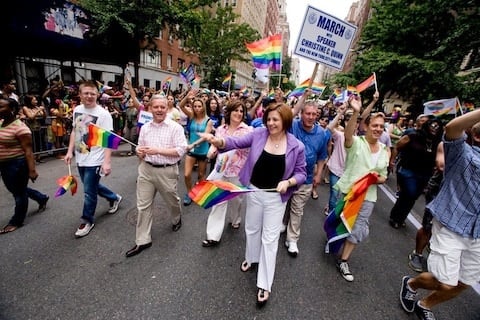 (Photo: William Alatriste)
BY COREY LAMBERT
In the spirit of LGBT Pride Weekend, Towleroad caught up with openly gay New York City mayoral candidate Christine Quinn to discuss how she'll celebrate, the recent Supreme Court victories and her plan to fight HIV/AIDS in New York City.
What are your plans for Pride this year?
I always go to the breakfast given each year by GOAL, the NYPD's Gay Officers Action League, and then it's straight to the parade. I'll be with my wife and my father and our extended family, as well as close friends, colleagues and staff. It's a rush marching down Fifth Avenue. I try to do the route twice. My favorite part is walking along the barricades talking to people and meeting folks who are there for the first time.
Do you have a favorite Pride memory?
I remember my first Pride like it was yesterday, even though it was over 20 years ago, and I will say that Pride 2011 was especially wonderful. Two nights before, New York had approved marriage equality, so there we were, about two million people lining Fifth Avenue and the streets of the Village, and the roar of pride and excitement was like nothing I had ever seen. This year's Pride is following the incredible wins at the Supreme Court, so I know we'll hear that roar again and that the roar will be heard across the country.
Speaking of the recent Supreme Court victories, can you discuss the LGBTQ issues that are most important to you?
The fight against HIV/AIDS is not over and as mayor I will establish an office of HIV/AIDS policy because we need to wage the fight out of City Hall, not the Health Department, so we can coordinate among city agencies. And clearly the issue of hate crimes has affected our community in a profound way. Despite the advances we've made, our community often does not feel safe and that isn't acceptable. When I was the Executive Director of the Anti-Violence Project I learned that hate crimes must be met with an overwhelming community response to let the world know that this will not be accepted. As mayor this will be a priority for me.
How do you think you've made a difference in the LGBTQ community?
From organizing against anti-LGBT violence as head of the Anti-Violence Project in the early 1990s to fighting to establish the HIV/AIDS Services Administration to playing an integral part in the fight for marriage equality and protecting funding for LGBT homeless and runaway youth as Speaker, I have delivered positive, affirming change for the community throughout my career in public life. But the work doesn't stop there. This week I'm releasing my LGBT policy plan detailing what my focus will be as mayor on behalf of the LGBT community. This includes eradicating anti-LGBT hate crimes, creating the first LGBT senior housing community, a focus on transgender civil rights, eliminating the waiting list for beds for LGBT homeless and runaway youth, the creation of the Mayor's Office for HIV/AIDS Policy and being a powerful presence in Albany and Washington. We also need to improve data collection as a city to ensure we are raising the level of community services for LGBT New Yorkers.
There's a saying that goes "If you're not at the table, you're on the menu." For LGBT New Yorkers, having a place at the table is key to ensuring that our issues are front and center. Standing up, being out, being visible and most importantly getting real results for the community you live in is how you make a difference.
CONTINUED, AFTER THE JUMP…
In the spirit of Pride, what do you hope for the LGBTQ community?
I hope that we continue to move forward as we collectively have over the past few years, but also that we realize that as a community the work is never done. It's true that we have made major strides on marriage, but we can't get complacent. We have seen a sickening spike in hate crimes and Albany still hasn't gotten it together and extended statewide basic civil rights to the transgender community. Each night thousands of LGBT homeless youth are without beds on the street, LGBT seniors often live in isolation and we are seeing an alarming rise in HIV and AIDS, especially in poor communities of color. We have a lot to do.
The marriage victory is an incredible accomplishment and a real milestone, but it's also just a milestone. It's not a signal to rest on your laurels. This is why as mayor I will push every day on issues like hate crimes, homeless and runaway youth, seniors and transgender rights, HIV/AIDS care and services.
What member of the LGBT community has inspired you most?
Like many, I'm inspired every day by the advocacy of heroism of groundbreaking, larger-than-life figures. I put Edie Windsor and Robbie Kaplan in that category. Edie Windsor was just an everyday citizen. When she got that tax bill after her wife Thea died, she could have just paid the bill and given up, but she didn't. She took the United States of America to court and with Robbie handling her case, she won. These type of women not only inspire me but will inspire young women for generations to come.
To connect with Christine Quinn, follow her on Twitter or visit her website.