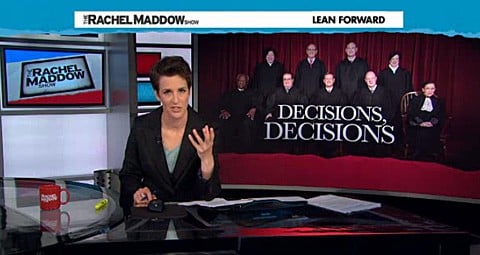 On Thursday night, Rachel Maddow discussed some of the 11 cases the Supreme Court has yet to hand down this session which include Affirmative Action, the Voting Rights Act, and, of course marriage.
The outcome of the marriage cases, as we've noted many times this year, depends on whether the court decides whether discrimination against gay people should be subject to strict scrutiny.
Says Maddow…
"The argument to keep anti-gay laws in our country depends in fundamental ways on the belief that being gay is a choice, and you can choose not to be gay if you don't want to be gay."
Before drawing a line to the exodus of "ex-gay" group Exodus International this week…
"They have not been changing gay people to straight people for the past 37 years, but now they will stop trying. There are certainly going to be other groups taking up the mantle, but as of today they are done, and they say they are sorry. And the Supreme Court rules next week."
Watch, AFTER THE JUMP…
Visit NBCNews.com for breaking news, world news, and news about the economy