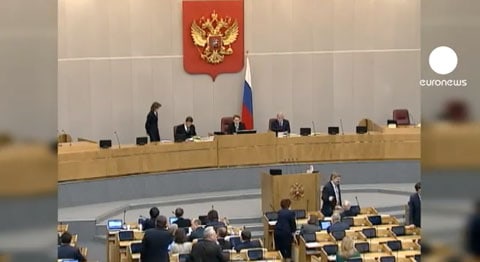 The lower house of Russia's parliament today approved a law banning same-sex couples in any country from adopting Russian children.  RT has more on the latest anti-LGBT news out of the country:
The amendment was passed on Tuesday as the State Duma approved the second reading of the bill to protect orphans.

The amendment also forbids single people who are citizens or permanent residents of countries that allow same sex marriage to become adoptive parents or legal guardians of Russian children.

Russia itself does not allow same sex marriage and the country's authorities have passed a number of regional and federal bills banning the promotion of gay and other "non-traditional" sex to minors – a move considered as discriminative by a large part of society.
Earlier this month, RT reported that President Putin would sign the adoption bill if it were approved by the State Duma. During a press conference at a Russia-EU summit in early June, Putin told reporters, "You really got me with these same sex marriages. Wherever I go… When I come to Europe they are waving their flags there."
The new adoption ban is the latest in a recent series of disconcerting reports out of Russia concerning homophobia and anti-LGBT violence.  Last week, the State Duma voted unanimously for a ban on so-called "gay propoganda, and a 39-year-old man was murdered because of his sexuality in the region of Kamchatka earlier this month.  In response to the violence, a Russian LGBT group is calling for a boycott of the 2014 Winter Olympics, which are to be held in the Russian city of Sochi.