Senator Patrick Leahy has filed a floor amendment to the immigration bill for gay binational couples, the Washington Blade reports: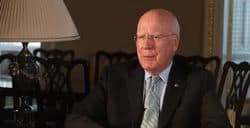 Sen. Patrick Leahy (D-Vt.) announced on Tuesday he filed an amendment to comprehensive immigration reform along the lines of a carve-out to the Defense of Marriage Act that he proposed — and withdrew — when the Senate Judiciary Committee was considering the bill.
"Seeking equal protection under our laws for the LGBT community is the right thing to do," Leahy said in a statement. "I withheld my anti-discrimination amendment during the Senate Judiciary Committee markup. As the entire Senate turns to debate the immigration bill, the fight for equality must go on."
The amendment filed by Leahy, No. 1182, would repeal part of DOMA to enable married bi-national same-sex couples to apply for a visa through the marriage-based green-card application process.
Read the amendment HERE.