In its final day of orders, the Supreme Court today declined to cases related to same-sex unions.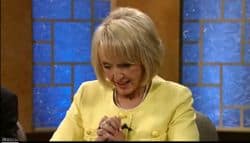 You may recall that back in 2009, Arizona Governor Jan Brewer eliminated state domestic partner benefits a year after they were implemented. The 9th Circuit in September 2011 dealt Brewer a defeat, upholding an injunction barring enforcement of the law Brewer signed. The Supreme Court today declined to hear that case.
They also declined to hear a case involving Nevada's ban on the freedom to marry in which the anti-gay supporters of marriage discrimination made a request to bypass the Ninth Circuit.
In December our legal editor Ari Ezra Waldman called the reasoning from Judge Randy Smith in the Nevada case "delusional."
He based his entire decision on the ludicrous notion that a "meaningful percentage of heterosexual persons" will flee or avoid the institution of marriage if gay people start marrying the persons they love.
SCOTUSblog reports:
The Court simply declined review in two new same-sex marriage cases, each of which might have drawn the Court into the basic controversy over whether gays and lesbians have an equal right to marry — an issue the Court bypassed in its rulings on Wednesday.  The newly denied cases are from Arizona, Brewer v. Diaz (12-23), involving benefits for unmarried gays and lesbians who work for state agencies, and from Nevada, Coalition for Protection of Marriage v. Sevcik (12-689), involving a direct test of the equality issue.   The Nevada case, however, asked the Court to take on the case before the Ninth Circuit Court has ruled on it.
The Court, as usual, gave no explanation for denying review in those cases.   The Court also declined to take on eight other pending petitions on the same-sex marriage issue.  In denying five of those, the Court noted that Justice Elena Kagan had not taken part, presumably because she had some role in them in her former position as U.S. Solicitor General.