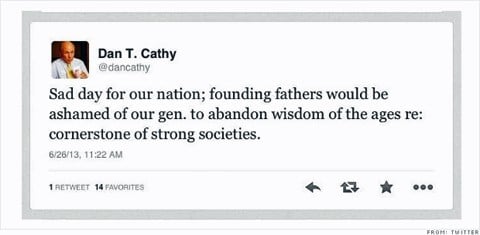 Chick-fil-A President Dan Cathy attacked declared his displeasure over yesterday's Supreme Court rulings on Twitter but then deleted the tweet.
Said Cathy's tweet: "Sad day for our nation; founding fathers would be ashamed of our gen. to abandon wisdom of the ages re: cornerstone of strong societies."
Chick-fil-A released a prepared statement that neither supported nor denounced Cathy's tweet.
"Dan Cathy, like everyone in this country, has his own views. However, Chick-fil-A is focused on providing great tasting food and genuine hospitality to everyone," the company said.
The tone of Chick-fil-A's statement is similar to how the company handled backlash against Cathy's previous comments on gay marriage.