Playwright Terrence McNally recently spoke with Tim Murphy at POZ about his new AIDS memory play Mothers and Sons that debuted this month for a short run at The Bucks County Playhouse in New Hope, Pennsylvania.  The play stars Tyne Daly who has previously starred in McNally's Master Class and served as a witness at McNally's 2010 wedding to partner Tom Kirdahy.  McNally also talked about the impact AIDS has had on the gay community along with his own experience with losing two lovers to AIDS: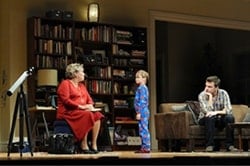 You've lived through several decades of both gay life and AIDS in New York City. What's that been like?
Mainly I feel a sense of wonder and pride at the enormous changes in everybody. When I first came to New York from Texas in 1955 as a gay man, I was 17. Gay bars were in basements, unmarked firetraps. They were like the speakeasies of the 1920s—you felt you were breaking the law by going there. And now, in my lifetime, Tom and I are legally married, and in this new play, the couple even has a child. Gay life has changed, and AIDS is a huge part of that. Gay pride and AIDS are connected, the way the community came together because of AIDS. I don't think there was much of a gay community before AIDS.
Has it been hard living through the deaths of two lovers?
It's devastating. But clearly I wouldn't have written this play if I didn't want to show that life can go on. When Robert died, I didn't expect to meet Gary, and when Gary died, I didn't expect to meet Tom. So that makes me an optimist. What am I supposed to do? Live with devastation and anger and fear, or do I do something about it? [Pauses; laughs.] You know, it's easier for me to write about these things than to talk about them. But I have friends who have not started a relationship since they lost a partner to AIDS. When I first met Tom, I was embarrassed. I wondered if Gary's friends were asking, How could I have loved Gary so much if I could love someone else? But I would never say there are rules for life, that if you truly love someone you can never love again."
Read the full interview here.
Be sure to check out a video of Terrence and Tyne talking about the new play AFTER THE JUMP…
(photo via Mandee Kuenzle/Bucks County Playhouse)