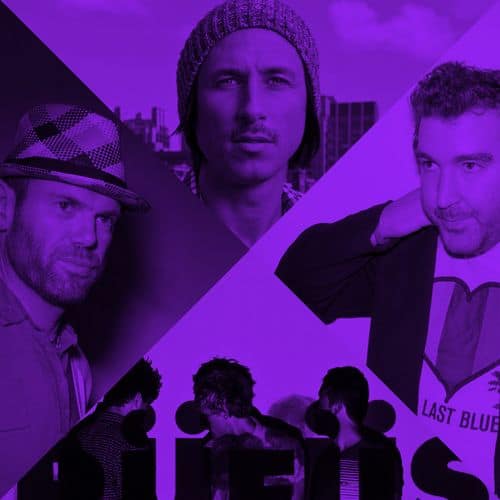 BY OCCUPY THE DISCO / JOSH APPELBAUM
The OXD Mirror is a weekly music column brought to you by the boys of OCCUPY THE DISCO (OXD), a New York City based movement created by three music lovers, Ru Bhatt, Josh Appelbaum, and Tadeu Magalhães, who want to share their love for disco, house and dance music with the world.
Miguel Migs featuring Lisa Shaw: 'Heartbeat'
With over a dozen EPs, a few full-length albums, plenty of mixtapes and remixes under his belt, it's safe to say that Miguel Migs is a name that is eponymous with deep house music.  The San Francisco-based DJ and producer is credited for bringing back the chill out/deep/nascent house scene in the late 90s and early 2000s, and has founded a few of his own record labels, including Salted Music, to house different types of electronic-based soul music.  After releasing 2011's Outside The Skyline, which featured vocals from singers like Evelyn 'Champagne' King and Meshell Ndegeocello, Migs' new upbeat single 'Heartbeat,' out on Defected Records, features frequent collaborator Lisa Shaw on vocals and his signature funky synths, but takes on a faster dance beat perfect for hot summer nights.
Joey Negro & The Sunburst Band: 'Taste The Groove (HT Remix)'
When he's not busy remixing for the likes of Kelly Rowland, Róisín Murphy, or Empire of the Sun, or producing his own original tracks, Joey Negro is working with his long-term side project, the Joey Negro & The Sunburst Band.  The UK-based producer has an impressive resumé of productions under a catalog of different monikers, including Jakatta, Raven Maize, Doug Willis, Prospect Park, Akabu and a handful of about ten other names, like his own birth name, Dave Lee.  His most recent album with the Sunburst Band, The Secret Life Of Us, was released on his very own Z Records last summer, and highlighted the bands' penchant for soulful, disco-inspired moods.  Fellow Brit producer Hot Toddy remixed the single 'Taste The Groove' from the album, adding in a deep yet funky element to the song that, while different from the original recording, is still very much in line with the brand of lush music we've come to expect from this group.
Osbourne: 'Hold Up (Feat. Joe Goddard)'
Osborne, the musical alias of DJ Todd Osborn, is a Detroit-based artist who salutes the musical soul of his hometown with his sophisticated, albeit under the radar, electronic productions.  Osborne released a self-titled album in 2008 and a follow-up EP the next year before he seemingly disappeared from the scene. Teaming up with Hot Chip's Joe Goddard, Osbourne has returned with a midtempo electronic song that is in the same air of many of Hot Chip's productions.  I'm sure Hot Chip fans would agree that these two artists marry up quite nicely.
MORE NEW TUNES, AFTER THE JUMP…
RÜFÜS: 'Desert Night'
Sydney-based band RÜFÜS is on the up and up, with their debut album ATLAS set to drop in August after two years of touring, releasing singles and remixing for other artists.  The band's slick electronic sound is reminiscent of fellow Aussies The Presets, with a more refined and softer feel.  'Desert Night' is available today and showcases the group's mellower, electro side with a familiar pop feeling to it
Attar!: 'Colibri'
ATTAR! is the solo project of Belgian artist Renaud Deru.  He used to be one half of the act Mustang and has been throwing the Dirty Dancing and Libertine Supersport parties in his home country for over a decade. In the past, he's created remixes for big names like Gossip, Chrome Canyons, Giorgio Moroder & Citizens!.  His debut EP, entitled The Fool, will be released June 24 and includes 'Colibri,' a track that according to ATTAR! is 'how a club track should sound.'  The pounding drum machine, bass, and 80's synths are more than enough to get the crowd dancing.
This week's column was written by Josh Appelbaum.  Check out his latest podcast here.
We are on Spotify!  Subscribe to our 'As Featured on Towleroad' Playlist to listen to tracks posted from past weeks.
For more information on OXD, check out our website and accompanying blog at www.occupythedisco.com, like us on Facebook, or follow us on Twitter: @OccupyTheDisco.